I will try to fit in one more chapter before we leave in three days. This week has been especially busy, with as many as four events every day.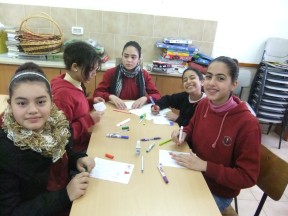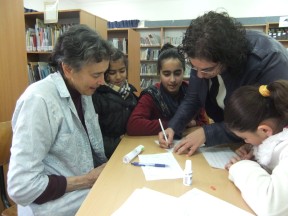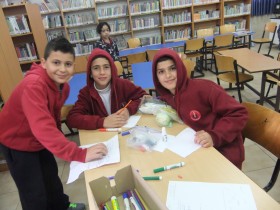 Getting Back to Writing
Classes resumed on January 10, and classes in the US had been in session for a week or so. Aimee VanMiddlesworth, and teacher at Hibberd Intermediate School in Richmond, sent us 18 pen-pal letters, and we had only a few days to answer them. Ruth gave them to Hala Khouri, or Little Hala, (we have four Halas writing letters) and last I knew she was working hard to get all of them answered. We have developed a core of good English writers, who have had exchanges with schools in Richmond and Kalispell. We needed more for this last group, and Little Hala has done her best, even though some of the responses are just pictures.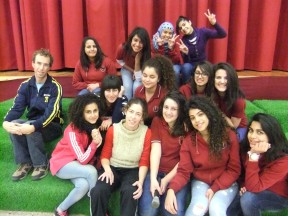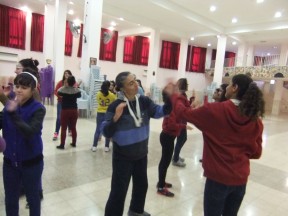 Giving us Emails Dancers with Moriah and her friend Pattycake Polka

At the same time Boran wants to teach dancing to just about every young woman in the high School, so as school resumed we had two classes of new dancers. For the first dance we had visitors from the Jewish city of Karmiel - Davig Belogus' daughter, Moriah, and her friend - dancing with us and everyone enjoyed it. The second class was another one we had not taught before - Korobushka and Salty Dog Rag seem to be as far as we are going to get.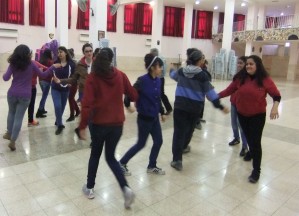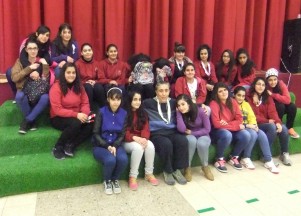 Another New Class
In between we found time to visit our cook Badiya, her husband Elias Obaid and daughter Royza. The occasion was really to see her new grandaughter, named Tijana.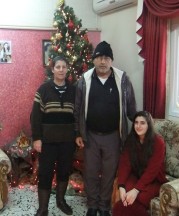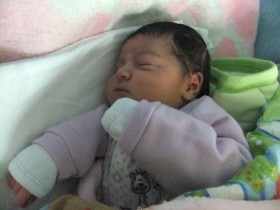 Obaid Family Baby Tiyana Royza

Sunday we were invited to Korazim, above the Mount of the Beatitudes on the Sea of Galilee (or Lake Tiberias). We traveled by bus, and we were the only non-military riders. The grim-faced soldiers had spent the Sabbath at home, and were how returning to their duties in the occupation of the West Bank.
The Frenkels met us at the Tiberias bus station. They previously had arranged and delivered an accordion. They had invited us back for a day in Eastern Galilee, and this was our opportunity to return it. We never met Ishai Dershowitz who actually had arranged for me to have the accordion - at some urging from Ruth I sent him this poem:
In Honor of the Paolo - Soprani

Let me voice my praise of the Paolo-Soprani
That lifted my spirits in manner uncanny,
In a room with a view,
with tunes (not that new)
With sound as sweet as sugar and candy.

My repertoire often can be called lackluster
The Waltzes are brackish, the polkas are bluster -
But without them I flounder,
My thoughts seem to wander,
And tuneless ideas are all I can muster.

So thank you Soprani - given name Paolo
With you in my arms I fly like a swallow
My heart is uplifted
My sentiments gifted
I rise to the heights of Venus and Apollo.

So my Red-Clad partner, these words shall ring true:
My poor life flew skyward - and I credit you!

The Frenkels took us north to Hula Lake - a natural wet-lands area north of the Sea of Galilee which, for millenia, was a stopover migratory birds traveling along the Syrian African Rift Valley from the arctic to South Africa. It was drained in the 50's to "recover" the land for agriculture and to remove the swamps which were breeding places for malaria-carrying mosquitoes. The drainage turned out to be an ecological disaster on several grounds, and in the 90's the lake was partially restored. The birds, including pelicans, terns and cranes, have returned, and we saw crowds of them as we rode around the lake in a "golf cart".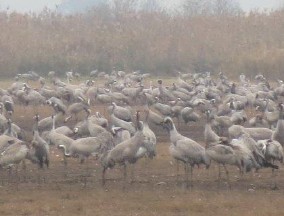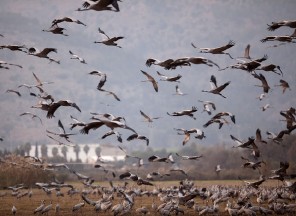 Cranes we saw a Nutria we saw Bootlegged picture from internet

Later we returned to the small community of Korazim, one of many founded in the 70's intended to provide a Jewish presence in mostly Palestinian Galilee. The Frenkels use their home as a bed and breakfast inn. It is beautifully located looking over the sea, and in a place from which many tourists sites are easily accessible.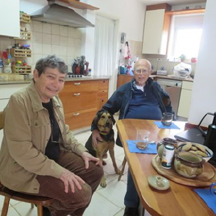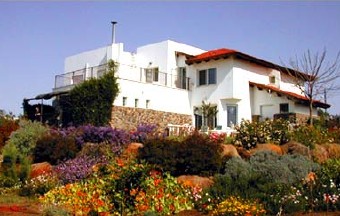 We enjoyed surveying their garden and a small orchard of olive and fruit trees (including the source of the previously described Pomelo). then we were treated to a superb Salmon dinner - we were reluctant to leave - in fact we left at the last possible moment and barely made the 4:30 bus to Haifa.
When we reached the Kfar Manda, or Ha Movil Junction there was a consensus on the bus that we should get out. The sign showed no indication of our bus, the 343, but after a few anxious minutes it loomed out of the fog and picked us up. The driver, as usual, let us off at the entry to the school.
That should have been it for Sunday, but as were climbed the hill the phone rang. One of our dancing 10th graders, Aseel Hasan was calling us, and thought we might like to meet her father who leads a Dabke dance troupe that often takes part in International Festivals. "Here in Ibillin?" why not.
We dropped our back packs and soon were picked up and taken to the Hasan home where we enjoyed various special treats and were entertained with videos of his group dancing in Estonia and Slovenia, and some tapes of foreign groups dancing in Ibillin. Here it is, one week before we are to leave, and here is something we were seeking right under our noses. It was a wonderful evening to end a remarkable day. (more about this with photos later).
Monday, along with usual duties, we prepared for the arrival of guests - the first in seversl weeks. In 1978 or so, the Quaker youth group leader for our older children was Max Carter, then a student at Earlham School of Religion. Since then Max has spent many years on the faculty at Guilford College, and we have seen him only occasionally. Monday he arrived with six Guilford Students taking a mid-term course on Palestine and Israel. (Grandson Will had been with them for two days in Jerusalem and the West Bank.)
We had more visitors as well. Janet Lewis, a missionary with the United Methodist Church and her friend and fellow missionary Kristen came to visit Abuna. Janet has experiences in Palestine and Israel that stretch back to around 1990, and some of that time she was Abuna's secretary here at MEEI. It was very enjoyable to learn various anecdotes concerning the schools, and to get her long-range perspective.
Eventually another visitor arrived; it was Abuna, taking time out of a very busy day to visit with old friends and to speak to the students. As Ruth said, he gave them his A1 lecture, with lots of interesting stories.
The students were very happy to be at the guest house. There was lots of room, laundry facilities, good food, and hot water for showers. We've all been there.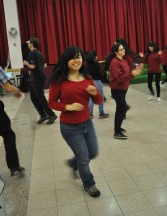 Guilford Students Joining in

All of Us Together Bouran, PE Teacher
The next morning of course we oriented the students properly, including them in our next dance class at 8:30 am. Then they participated in some English classes. In the early afternoon Will reappeared, and was quickly absorbed into the Max's group for a visit to the Daoud Family's home and a tour of its environs in the middle of Ibillin.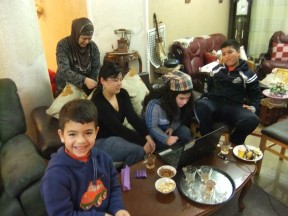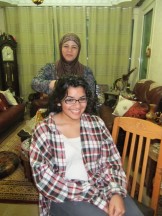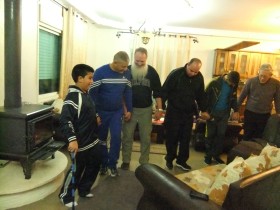 At the Hasans for food Hair Styling Dabke!
The day was not yet over. After dinner we were all invited back to the Hasan family for more treats and some Dabke instruction. Husam (I believe his name is Husam Hasan) runs a successful building material business on the ground floor of his five - floor home. In the course of the evening (as well as eating and dancing) we met his brother who runs an electrical and electronics business, and another friend who is working on introducing dances to very young children.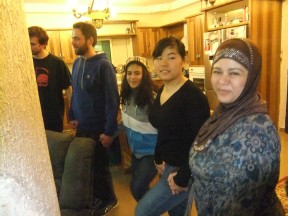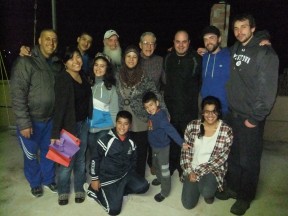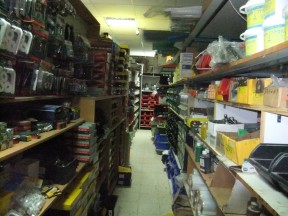 More Dabke Everyone on the Roof Building Materials

It was a very busy day for us, with little time off between 8:30 am and 9:30 pm.
On Wednesday the Guilford group left early for a trip to Northern and Eastern Galilee. Sam was involved a lot of the morning with the visit of a University of Minnesota student, Rima Kawas, who was interested in learning about the schools and about the guesthouse. She was thinking of organizing and leading tours in Israel and Palestine. We had exchanged more than ten emails setting up a visit - she was staying with her father's family in Jerusalem (a Palestinian) and could spare no more than one morning to visit the schools. She was to arrive at 9 am, and I (Sam) had appointments for her with teachers and with the Principal of the high school, Elias A. G. Ruth and I were scheduled to teach another class at 11:15, so I knew I could not do much hosting after that time. Rima arrived after 9:30, missed visits to classes, and had only a short visit with Elias, who was involved in a faculty meeting. She did see the church, the guesthouse, and a little bit of our class. Generally I thought the visit went pretty well. I was able to answer most of her questions and she went home with a good concept of the schools and the location. It was plan C or D, but it worked out.
This being Wednesday, I went over to listen one more time to the Steel Drums, and say goodby to Uri. They were slow getting started - the sheet music seemed to be missing, and halfway through "Mary Ann", Ruth signalled us to say that Will and I had a ride to Nazareth, and that would probably be his only chance to see the city. It was Amana who was offering us the ride. She had some business to do in Nazareth. I said a hurried good by to Uri and the drummers, and we were on our way.
Amana took us to a lookout from which we could see the lower part of Nazareth, and then she parked below and said goodby. We walked past the bus station, and then around to the Church of the Annunciation, or the Basilica. It was near sunset when we entered the church and there were only a few individual tourists around the grounds. Will and I had a good chance to go to the upstairs cathedral and to the downstairs grotto, or chapel, where mass was being celebrated. Mary was said to have met the angel there - however, that was decided 500 years after she gave birth.
Will and I walked a little bit into the Virgin Mary building, and then into the Souk which was nearly all closed. There were only a few shops open along the "ramp" leading to the church entrance. Having nothing better to do, we managed to get on the 343 bus just as it left for Akko, with Ibillin on the way.
That choice nearly turned out to be unlucky, as our bus lost its brakes near Kafr Manda. We had about a half-hour wait in the dark for a replacement, and then we wound our way through Bir Al Maksur. I was amazed to find the bus traveling on familiar roads in Mikman, and we turned back toward Shefaram just 3 km from Ibillin. Of course we had a lot of twisting and turning to go before dropping down the road in front of MEEI; perhaps we could have walked it faster from Mikman.
Thursday morning the Guilford students left, and Will took the bus to Akko, saying he would probably be back around 4. We had a very nice farewell dance with the seniors; the ones that performed on the stage a month earlier. By now they have mastered most of our repetoire, so the instruction was quick and easy and the dancing was fun.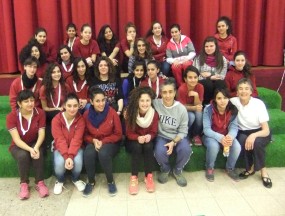 Last Dance with Seniors
A few days earlier we had talked to Elias A. G. about trying to find out information about the political situation. He suggested that we talk with a chemistry teacher here - her name is Amahl Baraki. She has a Ph.D. in chemistry, and her husband has been in the Knesset for many years. It then turned out that her husband's father was a 16 year-old resident of Saffuriya in 1948. So, if anyone could tell us the real story, he could.
Said Baraki, the grandfather, is now 81 years old - a strong and healthy man who greeted us wearing a white keffiyeh. He appeared to be a man who would command respect and who would be looked up to in his community. His daughter- in - law confirmed that this was true. With the help of his English speaking sons he recounted the events of 1948 in central Galilee. Here is his account of Saffuriya in 1948: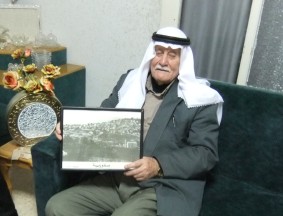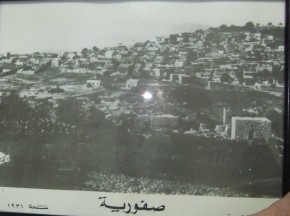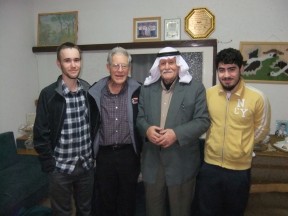 Said Saffuriya in 1931 Grandfathers and Grandsons
"Saffuriya was a large and successful Palestinian communuty in 1948. There were productuve orchards and farmlands, and there were many imported goods used by the people of the town. (He showed us a picture of the town in 1931, showing many buildings on a hill). On July 1 1948, the town was bombed, and a few days later Israeli army vehicles surrounded three sides of the village. Many of the soldiers were well trained and armed, since they had fought in the second world war. The army began killing people opposite the open area, and nearly all the people fled. He and some of his family fled to Lebanon. Many died there." He told a story about a twelve-year-old girl: She and her family were in a cave near Saffuriya just after they had fled from the town, and her two-year-old sister was crying because she was thirsty. The people in the cave were afraid that the crying child would be heard by the israeli soldiers patrolling near by, but all were afraid to go outside. The little twelve-year-old girl was the only one brave enough to go out quietly, sneak through the army and get a pitcher of water from a spring 300 meters away. She got the water and brought it back to her sister, who stopped crying. Many years later Said married that little twelve-year-old.
"There are many stories like this", he said, "some people write about 1948 with statistics. No one writes the stories." We asked him how he could be so healthy and peaceful with memories like this. He said "The anger is still inside."
We asked if he ever wants to return. He said, "It is a national park now. It is not my home." Amahl added that her husband (Said's son) would never go there. He refuses to pay money to return to the land that is his.
Our conversation went on to various topics of inequality in Israel. One is that it is illegal to teach about "The Nakba" in schools (yet the Holocaust is constantly memorialized). Along those lines, Ruth was talking on the phone with a Jewish friend. When this subject came up she said, "Palestinian is a political word; they are Arabs... They need to forget these things."
Friday was Will's departure day. He and I walked up the hill to the Christian Cemetery in plenty of time to catch the bus, and two others were at the stop when we arrived. A green bus arrived on time and Will climbed on. Neither of us bothered to look at the number. As it started an unexpected left turn, I asked a women who had not embarked if that was the Haifa bus. She said no, Nazareth. I took off in pursuit at not a quick pace, but fortunately there was traffic at the turn and I whacked the bus as hard as I could just as it entered the intersection. I told the driver that Will was on the wrong bus (Will was oblivious) and so we averted the first disaster. You know, we could have asked someone.
[Apparently Will's day ended more or less in the same vein. He found the Jerusalem bus in Haifa, and hung out in the old city most of the day; but the Sheroot (private minibus) he had reserved missed him at the Damascus Gate, and he had to pay a for a taxi to the airport. He should be in Seattle by now. Perhaps he has started writing the next great mystery:
Sheroot at Damascus Gate
]
We had a relatively free Friday - just a short dance with some girls in the gifted program. In the late afternoon we walked out to meet Susu, a woman that speaks good English who had helped us a few times at Nabeeh's music school. Ruth had asked her to take us to the Community Center to watch a practice of the local dance group we mentioned earlier. She agreed to do that, but invited us for coffee in advance. We met her pretty much on top of the hill and she took us to her house. Coffee turned out to be juice, "Mana'eesh" and tea. "Mana'eesh" is zatar (roasted wild thyme, sesame and other herbs). mixed with olive oil and baked onto flat bread. This is the Galilean equivalent of PB and J. There was a difference. Susu showed us her large sacks of grain, including wheat yet to be ground. She showed us Thyme that she had grown in her garden, lamenting the fact that when she was younger her family picked it wild among the olive trees. Now that is forbidden.
Susu is in the middle of three generations of women living in her mother's house. She lives with her mother, sister in law and neice. Her father, who was at one time the head of the Ibillin Municipal Council, has passed away, and her brother is a cardiologist working in Tiberias.
After the unexpected meal we walked down through her garden, lined with full containers of water collected during our one week of rain. They put our few barrels and buckets to shame.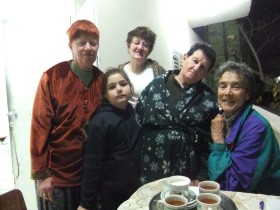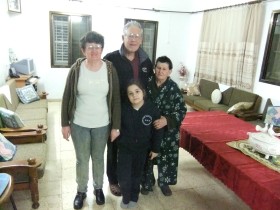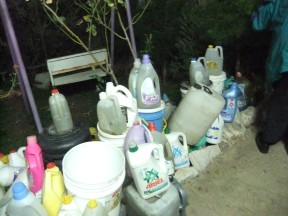 Susu (middle) and family members In the Main Room Lots of Water
Now, we had expected Susu to take us to the communuty center by car. She had no car, but she was a good walker. She took us to the north end of Ibillin (about a mile and a half) and there was the community center. It was financed in part with money from a government-run lottery. Inside we found our friend from last Tuesday leading a group of school-age performers through choreographed dances - one simulating the harvest and the other dabke steps and complicated formations.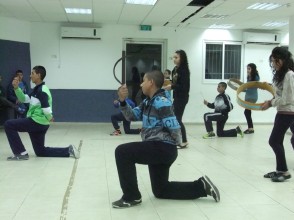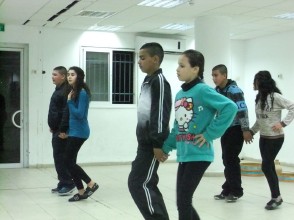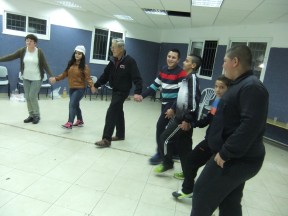 Harvest Dance Dabke! Left Footed Dancers
As seems often to be the case, we were expected, and as soon as we arrived the dancing stopped, we were given chairs and served juice. Soon Hausan and his entire family arrived to keep us company, and later we all danced the "Left Foot Dabke", the simplest one. We all fit into Hausan's car for our trip back to the Guesthouse. (If you want to see the older dancers performing at a European Folklore festival go to this link:
http://www.youtube.com/watch?v=4uAwvIbSDxA
)
That brings us to today, Saturday January 18. It is our last full day in Ibillin. It has been marked with an unexpected farewell celebration with the 10th graders - here is how it occurred: We happened to be looking for Elias A. G. who happened to be in his upstairs office, and outside his office was Maica, the head of the English department who happened to tell us that the students in her class wanted to say good by and they happened to be our tenth-grade dancers. We walked in, Aseel read a two-page thank you letter, and we were presented with a large basket of presents: Zatar, Arabic Coffee, Dates, a Keffiyeh for Sam, Dead Sea Skin Care for Ruth, etc. Apparently it was all a coincidence.
We had a farewell dance with our ninth graders, and then Saturday school was over and everyone had gone. We are left at home in the Guesthouse, finishing this chapter, packing and sorting last-minute emails. We shall wrap it up in the next chapter. Here are a few photos just from today: