A Brief History of Neighbors East and West



Beginnings. In the mid eighties when the tensions of the cold war seemed to be approaching a critical point, community groups throughout the country began to explore alternatives to military confrontation. In Richmond, Indiana, Paul and Marie Turner, two retired Quakers, suggested that one approach would be for Richmond to seek a sister city in the Soviet Union, to promote people-to-people contact and through it a lessening of tensions at the grass-roots level.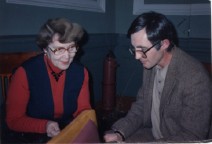 Bob Green of Richmond with Smolensk Deputy Mayor "Tatra Mountain High", Poland 1983

Some small numbers of Richmond residents traveled to the Soviet Union in 1983 and 1984, and established the possibility of forming a sister-city relation with Smolensk, in Western Russia. A large group of Richmond residents, including students, teachers, businessmen and ordinary citizens traveled to Smolensk in December of 1984, and as a result of the success of that visit, many participants urged the formation of a formal organization for overseeing and promoting both the sister-city arrangement, and educational activities in the Richmond area. As they walked through Red Square on their last evening in Moscow, they decided on a name for this organization: Neighbors East and West, or NEW.

Work involving the USSR. From 1985 to 1989, NEW organized five major trips to the Soviet Union. Serpukhov, located 100 km south of Moscow, eventually became Richmond's sister city, while Smolensk remained as a "friendship city" as many personal ties were maintained. Exchanges included reciprocal canoeing trips in Indiana and the Ukraine, formal visits by city officials, and tours by artistic and musical groups.

At home, NEW obtained support from the Humanities Commissions in Indiana and Ohio to create a movable exhibit dealing with the history and culture of the peoples of the Soviet Union. Typically this exhibit would be located for a few weeks in a public building in a small community, and at least one special lecture or presentation would take place in conjunction with the exhibit. NEW was able to draw on the expertise in area colleges and universities to enhance the quality of this effort.

Cuba. After the establishment of the sister-city arrangement in 1988, NEW passed on responsibility for its continuation to a city-sponsored committee. Two years later the Soviet Union was dissolved, and the cold war was essentially over. Members of NEW realized that a confrontational situation still existed between the United States and Cuba, and focused their efforts in that direction. In 1992 six Richmond residents traveled together to Cuba on a tour sponsored by Global Exchange. In 1994 NEW sponsored a trip by medical personnel to visit health facilities in Havana, Sancti Spiritus and Pinar del Rio; and in 1997 a somewhat similar tour which also involved visits to schools and other educational establishments.

In 1998 NEW applied for and received a license with the US Treasury department, which enabled NEW to sponsor trips involving "…non-degree educational exchange with people-to-people contact". Over the next four years NEW sponsored five trips to Cuba: one sponsored the tour of the Palo Alto CA Community Choir to several Cuban cities, three with emphasis on education and medicine, and one emphasizing music and dance.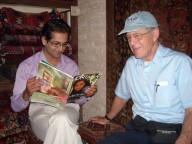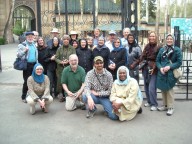 Reading Montana Life in Esfahan Bazaar NEW Travelers in Tehran 2009


In 2003 the Bush administration cancelled the "Non-Degree Educational Exchange" license category, and consequently NEW lost the ability sponsor further trips to Cuba, and NEW sought different opportunities.

The confrontational attitude between Iran and the USA motivated NEW to focus its efforts on travel to Iran, and as a result organized travel to that country in 2008 and 2009. Both these trips involved 20 or more "citizen-diplomats", who found an unprecedented level of hospitality and friendliness, in no way reflecting the official unfriendliness between the two countries. (For reports of these trips, follow links on the NEW home page, or go directly to the Iran Page.)

The latest NEW effort is a trip to Palestine and Israel in June, 2011. Go back to the home page for details.

Back to Index