My name is Ahmad Hazegh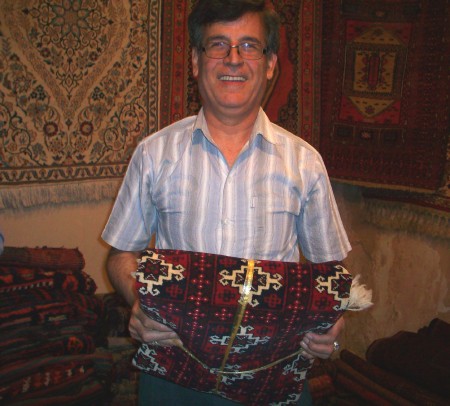 If I am home in Esfahan, Iran, you will probably find me with my son Hamid at our Carpet Shop in the Bazaar surrounding Nagash e Javan Square. My shop is just north of the entry to the Ali Qapu Palace, on the left. It is called



Paradise Carpets



I may not be in Esfahan. Often I am out searching for exceptional carpets in the Nomadic areas of Iran. I prefer Nomad carpets, since the patterns and color choices come from the weaver's head, not from a design planned by someone else. In the picture above I am holding a Baluchi Nomad Carpet.

I did not grow up in the Carpet Business. In high school I studied mathematics, and my father hoped that I would become a doctor. He was a traveling medical assistant, and enjoyed his work very much.

When I was about to leave high school, he took me on one of his trips into the country so that I would learn about his work. We went out into a nomadic area, traveling most of the way by motorbike, and later on foot.

When we reached the encampments, I followed my father as he treated those needing medical attention, but my heart was not in his work. Instead I became fascinated with the carpets, and the creative designs which the master weavers could produce.

When we returned to Esfahan I told my father that I intended to go into the carpet business. He was both dubious and disappointed, but he encouraged me to try.

I had a little money, so I went to the bazaar, and found a very nice carpet which I managed to buy at a good price. I worked hard to sell that carpet, and eventually sold it for twice what I had paid. Then I did what any new carpet merchant should do – I bought two more carpets, and sold them.

That is how I started, and now I have a display room on the square, and many more carpets in a sales room on the lower floor of the Carpet Bazaar, not far away. There I have both city carpets, with their planned designs, and the Nomad Carpets which I display with pride.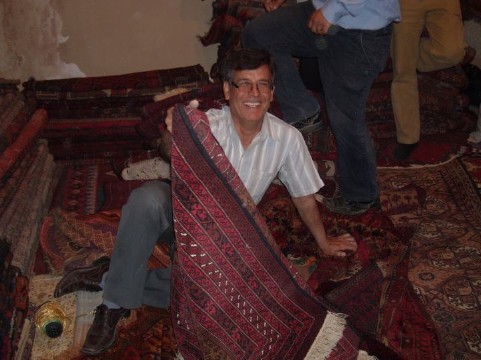 My father had shown me how to reach the nomads, and though I am not doing his work, I am in some ways following in his footsteps. In the early spring I travel into the Nomad lands, searching for carpets. I travel by truck as far as possible, then on foot with donkeys to carry the loads. I know very good weavers in many places, and do my best to select their finest carpets.

I help them with their work, also. I recall visiting a Nomad encampment once in Baluchistan in which the carpets were beautiful, but the colors were not as vivid as they could be. I brought them some dyes from Esfahan, and helped them find other natural dyes which I had learned of from other nomads. Now their carpets are exceptional, and they often save their best for me when I come searching.

When I have found good carpets, I load them on the donkeys and carry them back to the road. It is still a long way to Esfahan, and the carpets still need more work before they will be ready for my shop. They will have a long and irregular nap, the shape needs adjusting, and the wool needs washing both to clean it and to make the colors fast.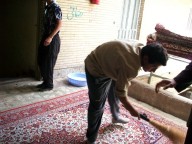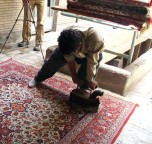 We have workers in the Bazaar who prepare the carpets for sale. If you come to my shop, I shall give you a tour of that operation. There are weavers who can fix any defects, and improve the edges. Others will shave the carpet to give it a uniform thickness, pull it into a precise rectangular shape, and wash and iron it. By the time a carpet reaches my shop, many hands have been involved in its creation.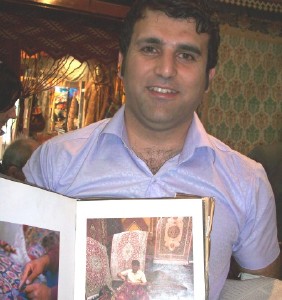 Hamid and Pictures of his father at work

So come and see Hamid and me at Paradise Carpets. If we are not too busy we can give you a tour of the preparation area, from the grindstone that grinds the natural materials into dyes, to the final product. Afterwards I'll show you my favorite carpets, and tell you where they come from.

If you are truly adventurous, perhaps you can join me on a trek into the Nomad country.

I hope to see you soon.

Ahmad Hazegh
Paradise Carpets
Nagash e Javan Square
Esfahan, Iran