Chapter 3 / Back to Index / Chapter 5

Sam and Ruth's Blog from Ibillin


Chapter 4


10/30/2013; 9:00 pm

Going back to Sunday: All the lodgers left early in the morning - the Steel Drum contingent for the Tel Aviv airport, and the Italians for Nazareth. The latter group did not rise or leave together. The two women were up first and left first, while the two men were more leisurely and left separately, the last an hour after the women. It all made sense, except that he was the one with the map.

It being Sunday, the four volunteers hiked up the hill to the Melkite (or Greek Catholic) Church. It is the same one that Elias Chacour (or Abuna) was given as a one month stint in 1965. He stayed for nearly 40 years, and still has a house on campus which he uses when he comes to campus for his many talks.



The church was about half full when the service began, but every seat was filled by the time it ended. It was a long service with a lot of rising and nearly constant singing, We only understood the occasional hosanna and amen. For that reason we can report that there were about five adult women for every adult man, and that about 30 percent of the congregation were children.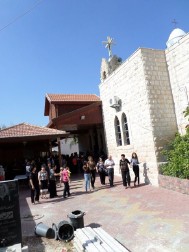 Leaving the church


After the service we were invited for coffee by a woman who sat behind Kate each Sunday. After some futile attempts at conversation her grandaughter came over to help interpret.

There were sheets to wash and rooms to clean in the afternoon, but with four of us it was not difficult. The weather has been very good, with few clouds and highs around 80. We hung out the linens on lines on the roof, and the combination of wind and dry air dried them in about 20 minutes.

Israel went off daylight savings time Sunday night, and now the sun sets at 5 pm. Ruth and I usually have free time in the afternoons for walks, but now it is dark when we come home and the cars on curvy and hilly roads are worrisome.

I have to admit that we have not gone far. We usually walk down a steep hill to a main road at the foot of the campus, and then up a steeper hill to a shopping area near the church. We managed to surmise that Nabeeh (whom we have yet to meet) has a music school in that neighborhood, and on our third try we found it and were ushered in by a unuversity student who teaches dance in the evening. We were hopeful that when I mentioned an accordion there would be some response, but there were only smiles. I told our host (who speaks good English) that I had sent a message to Nabeeh earlier and that he had responded. She said yes, she remembered our names, since she had written the response.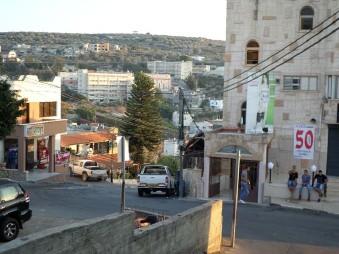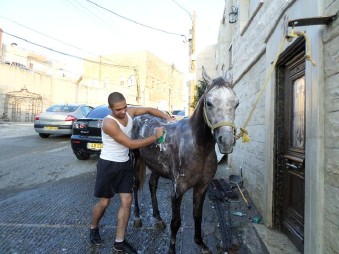 Tuesday a large group from a British missionary society, came for a talk and lunch. We are getting better at our duties - setting out tables with refreshments, setting up the book table, and in this case, talking to the group briefly while we waited for Abuna. Then, after his talk, we go into a frantic mode, making sure everyone is happy and trying to make change in four different currencies (Euro, Sterling, US Dollars, and Sheqels). Ruth got the group started on a tour of the campus and the church, and then we returned quickly to the guesthouse (about 200 yards away, up a steep hill) to assist our cook with lunch. So far, the lunch groups are very comfortable in the guest house dining room, and stay beyond their scheduled departure; but eventually they leave and we clean up.er

Then we may have a long time to wait for the next group, and we try to do some maintenance and improvements - or just get in some reading. We have long periods of relaxation interspersed with short periods of panic.

Here are a few more pictures of the schools and students,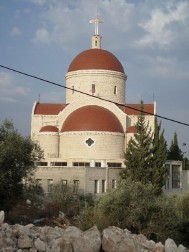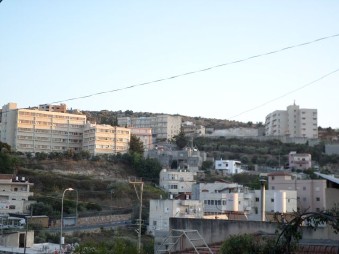 Beatitudes Church High School Middle School Primary on Right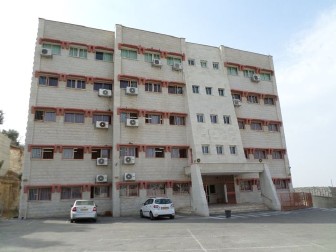 Primary School, Guesthouse on Top Floor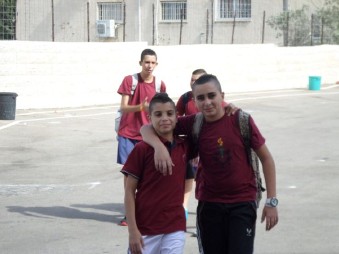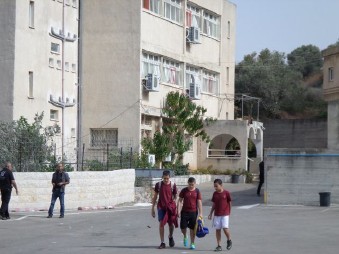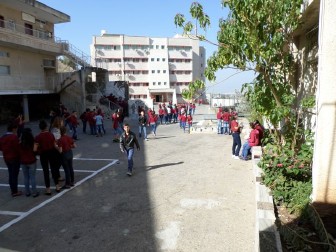 MEEI Students, Primary School in Background