Despite the rains we managed to fit in a very pleasant afternoon visit to As'sad Daoud and his mother, Abas, in their house near the Orthodox Church in the middle of old Ibillin. We visited their house with a big group before (see chapter 6) but this visit was more personal. The interior of the house contained beautiful furniture and carpets, and we were served tea and biscuits in elegant fashion. The conversation ranged over many topics, including origins of languages and some explanation of Galilee Bedouins - the group we had just encountered two days earlier. As'sad implied that the village we had seen, called Mikman, had not been a recognized village until ten years ago, even though it had been first settled in 1948. Here are some illustrations of our visit: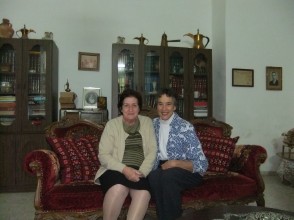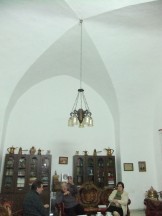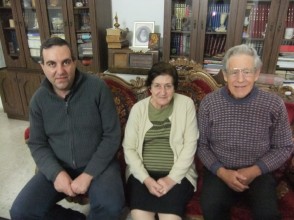 Abas and Ruth Living Room Arch, Roman Design As'sad , Abas and Sam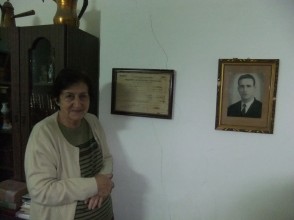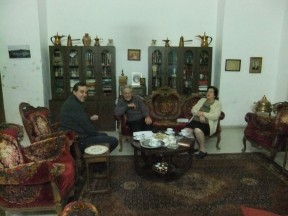 Views of Daoud Family and House

We were able to return to our filling buckets through only a soft drizzle.


Thursday afternoon came and we set out for our trip to visit friends David Belogus and Urit in Rehovot. Rehovot is a fairly large community of 112,000 between Tel Aviv and Jerusalem. It is 99% Jewish, and was founded in 1890. In 1951 it had 255 inhabitants. The Weizmann Institute is in Rehovot, and so is a High-Tech center, but otherwise it seems to be a bedroom community for the major centers. It is only 12 miles from Tel Aviv.
Thursday at 1:00 we had a folk-dance class with senior girls, only they brought a few brave boys with them who joined in enthusiastically. There were some strange contortions in Korobushka when both participants took the man's part simultaneously, but otherwise there was alot of lively and good dancing.
We hurried away, having arranged a ride to Haifa with Johnny Mansour, the vice-principal of the high school. He dropped us in the rain at the Central Haifa Train Station. We were surprised to find ourselves in an airport-style security check, and I was forced to disclose my jack knife of many countries. The security checkers were very worried, and had to check with a supervisor two or three times. Finally theylet us pass only if we put it at the bottom of my backpack in an unaccessible place. "It will not be safe to show that on a train", the checker said.
The long wait at security left us hurrying toward the platform. The train left right on time and whisked us down the coast to Tel Aviv in about an hour. We were able to find seats, but the train was crowded with many soldiers, some carrying automatic rifles. What was all that fuss about my knife?
The ride was very easy, and after a change in Tel Aviv we arrived in Rehovot, and David Belogus picked us up, now in cold rain, and took us to his efficient, lovely, three-bed-room apartment. (That is, three rooms that are not kitchen or living room.)
David is a computer scientist, although he did his Ph. D. in physics and mathematics. He is now retired, Nurit, his friend, works in Beer Sheva, the largest city in the Negev Desert.
We had a nice evening - it seemed as if every place we had gone he had been there first, and here we were in Israel, talking about Yugoslavia. In the morning Nurit arrived and the four of us set up a brunch for many of his friends who were coming for a visit. I should say that our original plan was to join Nurit and David at a picnic and jam session at a nearby Kibbutz, but the weather had foiled that plan. Since David's birthday had just passed, the picnic had been replaced by a birthday brunch.
The group of friends included singers and dancers, one of whom was a physicist and a Holocaust survivor. We sang songs in German and in Hebrew, and then added some American songs as well. We taught two easy folk dances, and they were easily learned since at least three of the guests were far better dances than we are.
Here some pictures of the party: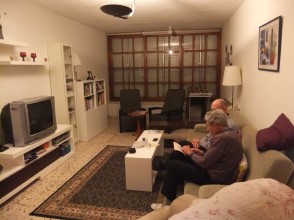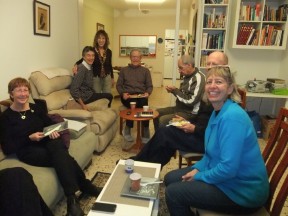 David's Living Room The Gathering Crowd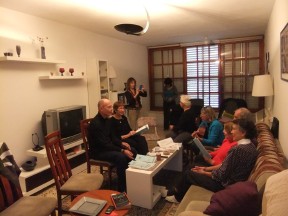 The Brunch Singing in the Living Room


From time to time people would check the TV to find out the situation in Jerusalem, where a 100-year snowfall was crippling the city. Many people had decided to travel to Jerusalem to see the snow, and some were trying to leave because of the snow, but none were prepared. The roads were icy, and soon became clogged with disabled cars, in which many people spent the night. It looked like maybe a foot of snow actually did fall, and there was no system to clear it.
At six we went to Sabbat with David and Nurit, and found it as unintelligble as the Greek or Latin church services that we had been attending. It seemed to be just a lot of psalms praising God. We returned home and had a bit of a political discussion, but thankfully we found a video that interested all of us and watched that until bedtime.
We woke to find that roads were still closed to Jerusalem, so we scrapped that plan. The TV seemed to indicated that there would be a special train to Haifa at around 2:00, even though it was Saturday. After a leisurely breakfast David picked up his daughter Moriah, and we went to the closest Tel Aviv Station. There we learned that the train was only carrying passengers from Jerusalem and would not be available to travelers anywhere else in the country. So, as Moriah said, we used the second option.
We headed for the bus station (a dangerous place, says Moriah, because of all the Sudanese and Eritrean refugees there) and certainly the mix of people around the station was very eclectic. The bus station was closed, but outside on the curb was a line of nine-passenger minivans, with drivers outside hawking travel to various Israeli cities. We found one for Haifa that was empty and got in. In about 15 minutes the other seats were filled, and the driver got in and got started, As we wove through Tel Aviv he collected our fares - 45 NIS, as opposed to 44 by train. (However, on the train we, being senior citizens, only paid 22.) These private, non-kosher minibuses are called Sheroots, meaning service in Hebrew. We reached Haifa in just over an hour, with no stops or delays. It was a quick and pleasant ride, involving converations with Moriah who gave us more of a young persons view of the country.
On the way to Haifa our phone rang, and it was Boran, our friend on the faculty who has arranged the high school folk dancing classes. She knew we were trying to go to Jerusalem, and had just called to see if we were all right. When she heard that we were approaching Haifa, she offered to give us a ride to Ibillin, and we accepted, since there wasn't even a Sheroot that was going our way. So, we arrived home comfortably, just as the sun broke through for the first time in six days. The pictures below show some parts of the trip home: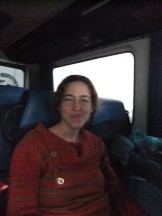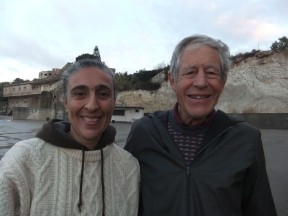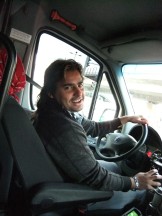 Moriah Boran and Sam Sheroot Driver
Finally, yesterday afternoon we decided to walk over to the Bedouin Village one more time. We left about 3:20 but still failed to estimate the time correctly. It took about an hour to get there, suggesting that it was a three mile walk. It was already getting dark as we went over toe crest of the hill. We only had time to take a few pictures in the dimming light and then return.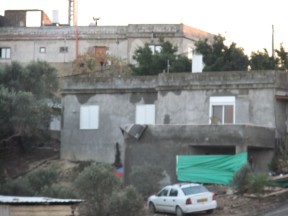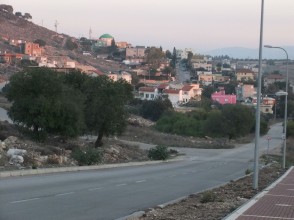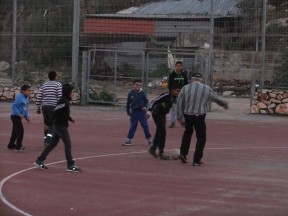 Awabida Mikman Great Soccer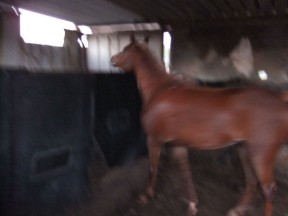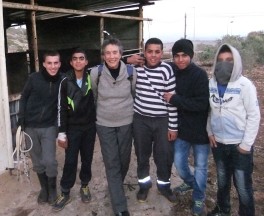 The Horse Awabida Boys

As we were walking we noticed some boys playing soccer in a playground of the smaller village called Awabida near the top iof the hill. Ruth went over to make friends, and I followed, eventually finding myself in a disorganized scrimmage. As we walked on, one of the boys took us to see a horse, and an older person drove by and invited us in for coffee. We politely declined, since the path home was rough and light was nearly gone. We walked on home by moonlight.