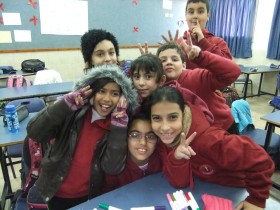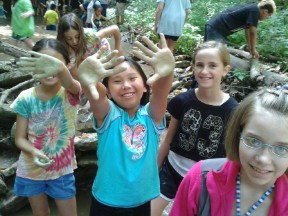 Aimee's 4th Grade in Richmond Mariam Bawardi Students RFS Children on a Field Trip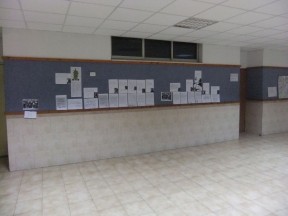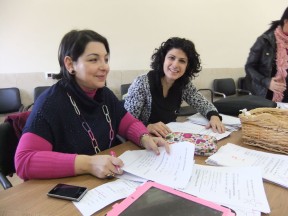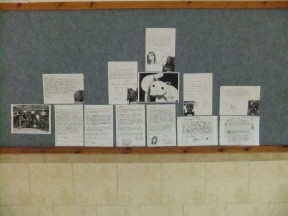 Pen Pal Letters on Display, and Shadia and Toujan, Teachers who have helped with the Pen Pals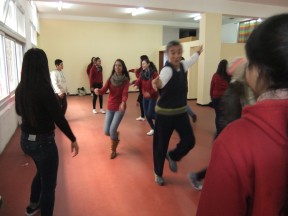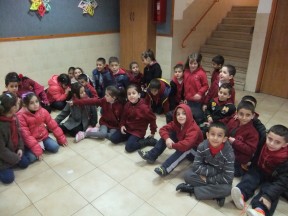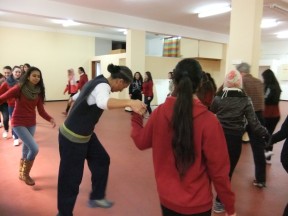 We continued with folk dancing sessions, with big and little dancers. In the pictures above you can see ninth grade dancers dancing V'e David, helped enthusiastically by Boran in black and white, a PE teacher who is a very good friend on the faculty. In the middle are some first graders who are not that sure of what these crazy English speakers want them to do. As you can suppose, Seven Jumps was about the only successful exercise, and the only "dance" we had them do on their feet. Everything else was done sitting on the floor, including a very strange version of the Hokey Pokey.

Below is a little bit of miscellany: We have been concerned with the amount of litter on campus here. By some standards it is not too bad. The many trash cans do get filled and emptied, and the dumpsters as well. There is a tremendous amount of plastic litter produced every day, and and the children and plastic swirl around the playgrounds during break times, as in the picture. Actually, from the amount of trash in the cans, probably less than ten percent fails to be collected, but this 10 percent is noticeable to our eyes. We do pick some of it up, out of habit, but lately just to assuage our feelings we have been collecting aluminum cans.

This week we made two notable discoveries: a couple of familes that recycle cans and bottles - We assume for money, and we saw large-pile disposal in action - note the bath tub.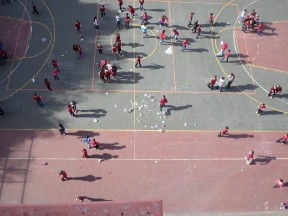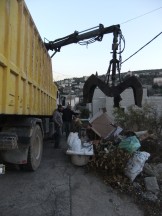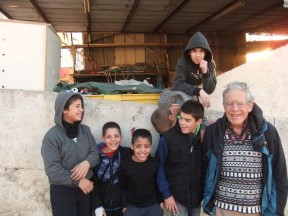 Children and Plastic Bags Jaws of Disposal Recyclers
A third discovery on a different subject was the inside of a Pomelo, seen below. This strange citrus fruit is very large - note the orange for comparison - and tastes like a sweet grapefruit. It was grown by the Frenkels over by Lake Tiberias.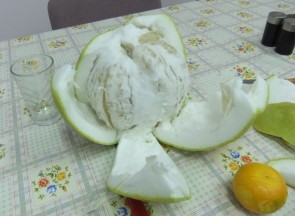 The rest of this week's blog is a sort of photo essay of the various celebrations:

1. The Middle School Christmas Souk (Souk is the Arabic word for market of bazaar)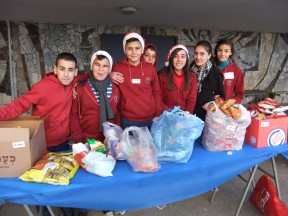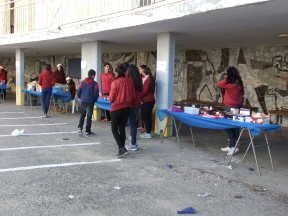 Some of the Booths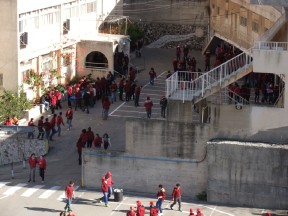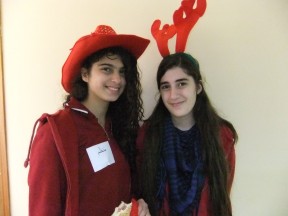 From above Badiya Cooking Pancakes A Reindeer and friend
2. One of the pre-Christmas concerts by the high Christmas Tree right in the middle of Ibillin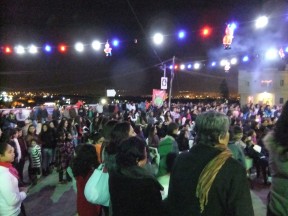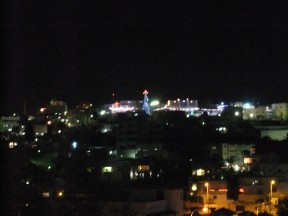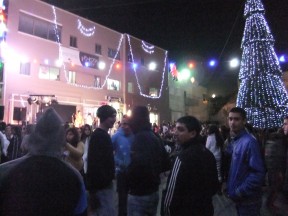 About 1000 people attending From Our House by the Tree
2. The Kindergarten Performance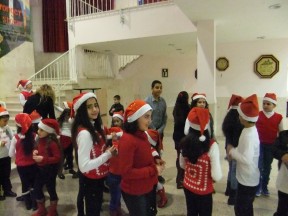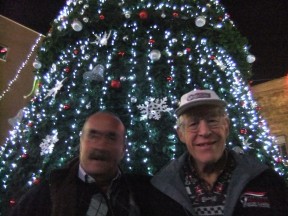 Lining up (Sam and Henry's Father by the Tree) On Stage

3. Some Kind of Contest in the Gym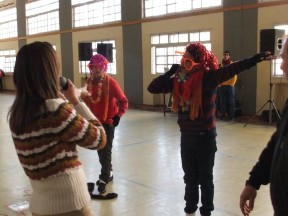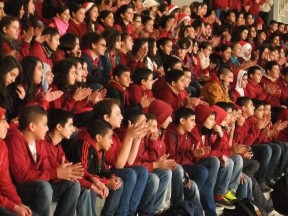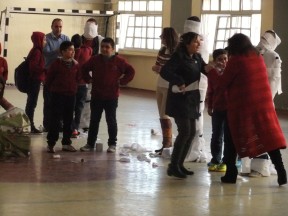 Dressing? Cheering? Eating?
4. Saturday Supper with Boran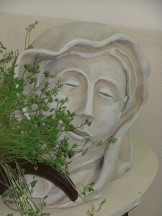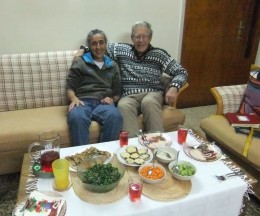 Boran and her Mother An Example of her Sculpture What a Spread!
5. Saturday Evening Christmas Souk in Shefa'Amr (or Shefaram, the Jewish name.) This was like the Whitefish Christmas Stroll, but more people in narrow streets of the old town. The city is mixed Christian and Muslim, but does contain a very old Synagogue and Jewish Cemetery, from pre-Zionist times. The old buildings in the center of the city are 250 - 300 years old. Everyone was there. We probably met 30 of our folk dancers and letter writers, along with parents and teachers. There were family groups, and separate groups of young men and young women, as in a Mediteranean Promenade. There were food and drink merchants giving out free samples of wine, coffee and sweets; and upscale shops open for perusal. There were popcorn, cotton candy and ice cream vendors. The narrow streets were sometimes so crowded that all movement was stopped. Within a few blocks we encountered three different churches and a mosque.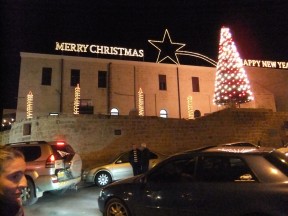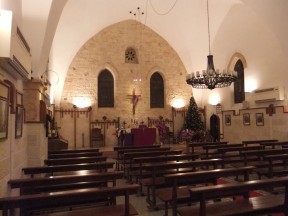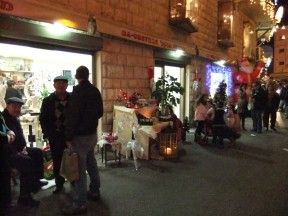 Melkite Church Baptist Church upscale merchant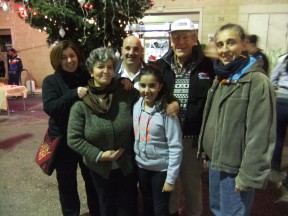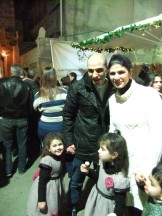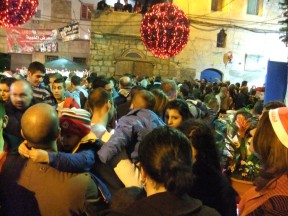 Hala Khoury and her Family Shadia, Husband and Twins "Stuck Crowd"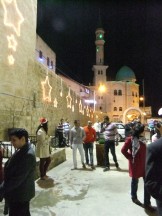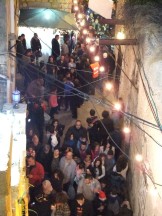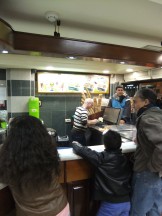 Orthodox Church Courtyard Crowded Street Ice Cream!
See you next week - Merry Christmas from Ibillin!